Hello and welcome to Purple Vibes YouTube Hop!
My crafty family and I are celebrating Summer is here. We all love purple, it is a beautiful color, symbolizes feminism and doesn't it give you good vibes?? We've challenged ourselves creating 12 different projects with PURPLE as main color. And as we want to keep spreading the love and good vibes, we've decided to make a YouTube hop showing 12 amazing projects, lots of techniques and tips and, of course, a bunch of GIFTS.
Hola y bienvenido al Purple Vibes YouTube Hop!
Mi familia de artistas y yo estamos celebrando que el verano ha llegado. A todas nos encanta el morado, es un color precioso, simboliza el feminismo y ¿no te da buen rollo? Nos hemos retado a nosotras mismas creando 12 proyectos diferentes con el MORADO como color principal. Y como queremos seguir expandiendo el amor y el buen rollo, hemos decidido hacer un hop en YouTube con 12 alucinantes proyectos, muchas técnicas y consejos y, por supuesto, un montón de regalos.
I decided to alter a clock and turn it into a fairies' house. I had had that crazy idea in my head for a long time, with that clock in a drawer... and felt this was the perfect moment to do it. So let's take a look!
Decidí alterar un reloj y convertirlo en una casa de hadas. Había tenido esta loca idea en mi cabeza durante mucho tiempo, con el reloj guardado en un cajón... y sentí que era el momento perfecto para hacerlo. Así que echemos un vistazo!
I started by covering the clock with gesso and adding some texture: sand texture paste in the inside (to make it look like a cave) and crackle paste in the outside (it has to look like an old abandoned clock... cause fairies don't steal human stuff).
Empecé cubriendo el reloj con gesso y añadiendo algo de textura: pasta de arena en el interior (para que parezca una cueva) y pasta de craquelado en el exterior (tiene que parecer un viejo reloj abandonado... porque las hadas no roban cosas de humanos).
Then I added some small stones and stars in the outside cause, as everybody knows, fairies love stars. I colored the clock with a magical look. Every house needs some furniture and decoration, so I created three tiny canvases, beautiful decoration for the walls, some moss for the fairies to sleep in and a bottle with fairy dust.
Después añadí algunas piedrecitas y estrellas en el exterior porque, como todo el mundo sabe, a las hadas les encantan las estrellas. Di color a al reloj con un look mágico. Todas las casas necesitan muebles y decoración, así que cree tres diminutos cuadros, una bonita decoración para las pareces, algo de musgo para que las hadas puedan dormir y una botella con polvo de hadas.
Of course the house needed flowers cause, as everybody knows, fairies are awesome gardeners and feed on nectar. And they also love to read and tell tales at night, so I added some lights to make them feel comfortable at home.
Por supuesto no podían faltar las flores porque, como todo el mundo sabe, las hadas son maravillosas jardineras y se alimentan de néctar. Y además les encanta leer y contar historias por la noche, así que puse una luces para que se sientan cómodas en casa.
My tiny fairies are very happy with their house, and me too.
Mis pequeñas hadas están muy contentas con su casa, y yo también.
You can watch the full tutorial on my YouTube channel and hop to other videos take part this event.
Puedes ver el tutorial completo en mi canal de YouTube y seguir con los otros vídeos para participar en este evento:
💜
💜
💜
SPONSORS & GIVEAWAYS
💜
💜
💜
We have 12 generous sponsors that will spoil you with their fabulous gifts. I want to invite you to
visit their sites and take a look at their awesome products!
Tenemos 12 generosos sponsors que te mimarán con sus fabulosos regalos. Quiero invitarte a visitar sus webs y echar un vistazo a sus maravillosos productos!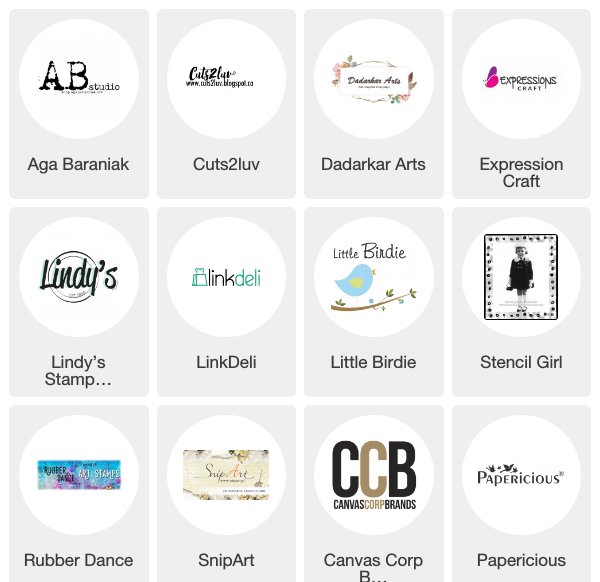 * Aga Baraniak: 1 x generous craft goodies kit
* Cuts2luv: 1 x $15 voucher + shipping
* Dadarkar: 1 x generous craft goodies kit + shipping
* Expression Craft: 2 x $25 vouchers
* Lindy's Stamp Gang: 2 x $25 vouchers
* LinkDeli: 2 x $20 PayPal vouchers
* Little Birdie: 2 x $50 value craft goodies kits +
shipping
* Papericious: 1 x $15 voucher
* Rubber Dance: 2 x $20 vouchers
* SnipArt: 1 x generous craft goodies kit
* Stencil Girl: 1 x $50 voucher
To enter the sponsors' giveaway you MUST:
watch and comment all the 12 videos
subscribe to all the 12 channels
- Not mandatory, but please share and tag your friends!!
- You have until June 27 to watch, comment and subscribe.
- Winners will be randomly chosen among those who follow the rules and will be announced on June 28 in our social media.
Para participar en el sorteo de los sponsors es NECESARIO:
ver y comentar los 12 vídeos

suscribirse a los 12 canales
- No es obligatorio, pero comparte y etiqueta a tus amigos!
- Tienes hasta el 27 de junio para ver los vídeos, comentar y suscribirte.
- Los ganadores se elegirán al azar entre aquellos que sigan las reglas y se anunciarán el 28 de junio en nuestras redes sociales.
💜
💜
💜
MY PERSONAL GIVEAWAY
💜
💜
💜
I also have my personal giveaway. One lucky winner will receive a wonderful products kit from my generous personal sponsor
LITTLE BIRDIE
, valued $25. Rules are the same as for the other giveaways.
Por mi parte, también tengo un sorteo personal. Un afortunado ganador recibirá un kit de estupendos productos de mi generoso sponsor personal LITTLE BIRDIE, valorado en $25. Las reglas son las mismas que para los otros sorteos.
Many many thanks to all of you, crafty friends, for reading this long post, for taking part in this YouTube hop and for all the love and nice words you always leave about my works.
Huge thanks to all our wonderful sponsors for being so generous and supporting this event.
And thank you to the infinite to my artist friends. You, my crafty family, are the best company to walk through this path!
Muchas muchísimas gracias a todos, amigos artistas, por leer este post tan largo, por participar en este YouTube hop y por el amor y bellas palabras que siempre dejáis en mis trabajos.
Muchísimas gracias a todos nuestros maravillosos patrocinadores por ser tan generosos y apoyar este evento.
Y gracias hasta el infinito a mis amigas aristas. Vosotras, mi familia artista, sois la mejor compañía para recorrer este camino!